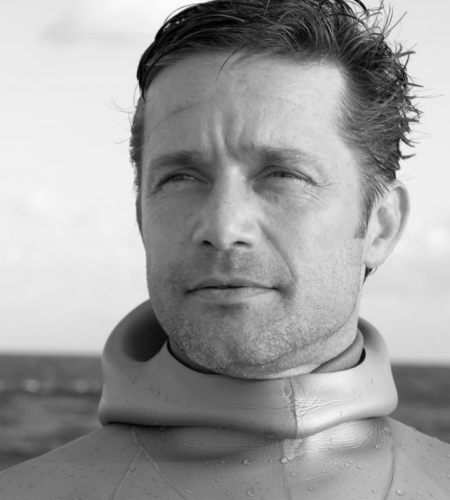 "We often talk about the Ocean, a blue immensity of which we know nothing. Proteus must become the platform that can connect us in real time with what allows us to be".

Humanity has explored 5% of the Ocean. Out of ignorance, it has invested much more in the conquest of space than in underwater research, preferring to go so far out to find what might be found at home (information for science, medicine or industry). Fabien Cousteau's idea is revolutionary: Proteus, a Greek marine deity with protean aspects, gives his name to the future underwater exploration station, the largest and most sophisticated ever designed (370m2). Located at a depth of 18 metres off the island of Curaçao, known for its huge coral reefs in the Caribbean Sea, the underwater base should be habitable in 2024. Fabien Cousteau, who began diving at the age of 4 and spent his childhood on the legendary research vessels Calypso and Alcyone, continues to push the limits of what is possible.
Proteus will be a world first. What will its missions be?
Our research will focus on climate change and the micro-plastic that infuses the Ocean. We will be crossing talents and encouraging the hybridisation of skills. For the duration of the mission, 12 aquanauts will work permanently within Proteus. Later on, we plan to create a network of underwater bases, spread over seven or eight strategic locations around the world.
Why set up Proteus off the island of Curaçao?
It is a little explored area with very healthy coral reefs and fabulous biodiversity! The area offers extensive research opportunities, with the seabed reaching 800 metres in some places. The government of Curaçao was very enthusiastic about the project and gave us permission to enter almost immediately.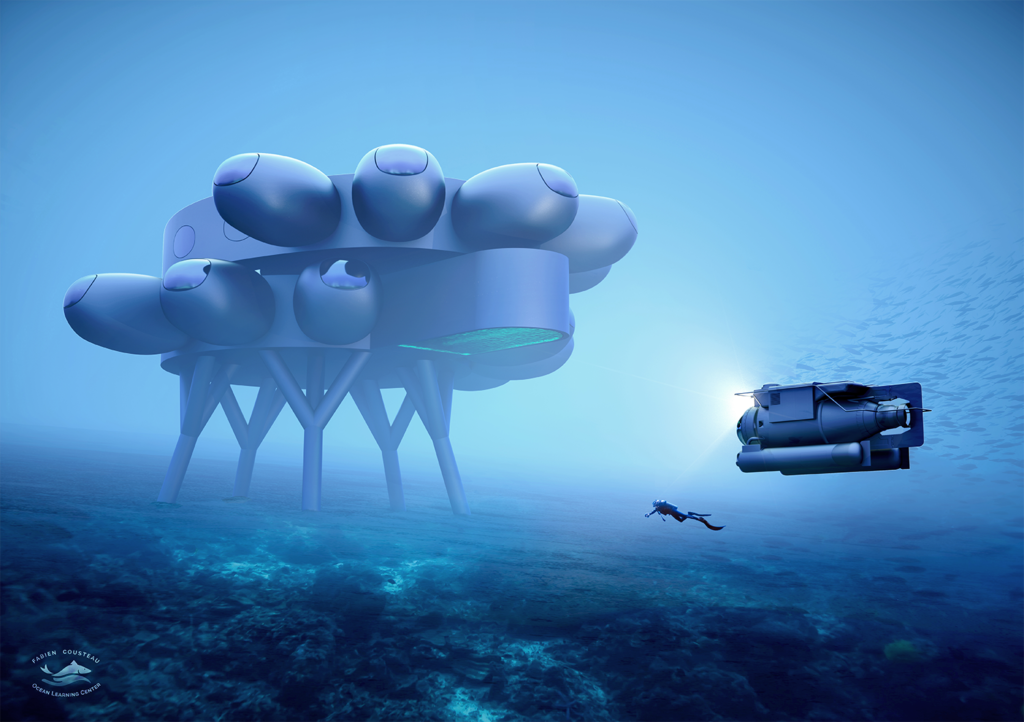 How will Proteus be set up?
Containers will be set up inside and outside to allow scientists to study unstressed, intact organisms and plants. This is a major breakthrough: these organisms will not react to changes in pressure and temperature that are usually involved in ocean sampling. The station will also be connected to the surface by a line that will carry breathing air and communications. Marine life and daily life on board Proteus will be filmed continuously using a video production facility and shared with universities so that they can follow ongoing research and discoveries in sessions. La station sera par ailleurs reliée à la surface par une ligne qui transportera de l'air respirable et des communications. La vie marine et le quotidien à bord de Proteus seront filmés en continu, grâce à une installation de production vidéo et partagés à des universités pour qu'elles puissent suivre, lors de sessions, les recherches et découvertes en cours.
What are the answers you want to get?
To advance our knowledge of the seabed. Less than 5% of the Ocean has been explored. We often talk about this blue immensity, but we know nothing about it. Proteus must become the platform that can connect us in real time with what allows us to be. Humanity has set out on a selfish course, but we have the opportunity to change it radically, in a timeframe that is becoming shorter day by day. It is obvious that the ecological crisis is affecting us deeply, even unconsciously. We are in the 6th mass extinction, the only one caused by a species. The human species. We have too little awareness of the great whole we form with nature, too little awareness of the interdependence between all species. We are completely disconnected from the Ocean. Yet it is thanks to it that all life on the planet exists.
How will the first mission be organised?
It will be dedicated to applied research on the seabed around Proteus. The expedition, which will be carried out with my team, will consist of perfecting the functions of Proteus as well as studying human psychology and physiology, as there will be 12 of us (compared to an average of 6 in the past). I can't tell you how long it will last yet, but I can tell you that it will be unique! For the missions that will follow, we will call on different research structures, depending on the subject: biochemistry research, robot development, etc. We are in talks with the French Ministry of Foreign Affairs. We are in talks with MIT, Nausicaa, the Oceanographic Institute - Albert 1st Prince of Monaco Foundation, and many others.
In 2014, you conducted Mission 31 in the Aquarius underwater laboratory in the Florida Keys. Was this the inspiration for the creation of Proteus?
Mission 31 obviously strengthened our approaches and beliefs. We had focused our research on climate change and the overconsumption of marine species (especially fish). We were able to connect with over 100,000 students for 31 days, which was great. When we finished the mission, we sent our results to Stanford University, MIT and Northeastern University, with whom we had partnerships. Many research papers were published between 2015 and 2017. Proteus will be larger, so we can stay there for a longer period of time and do more research.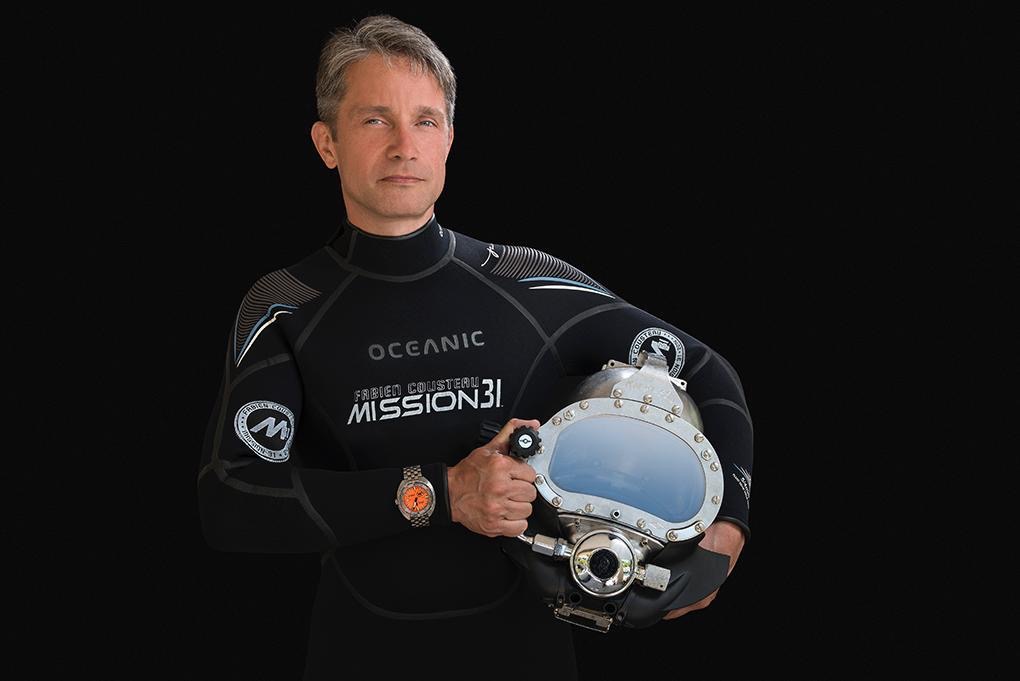 What is it that particularly moves you?
Creating an international underwater station was one of my greatest dreams. With Proteus, we are on the threshold of a new era. A major tool for underwater exploration was missing, and I really realised this with Mission 31: submarines, robots and diving are not enough. An underwater laboratory habitat such as Proteus opens up extraordinary possibilities. Furthermore, I have a passion for all living things. I am happy when exploring when I discover a whole range of lives, colours and movements. Knowing a little more about the Ocean allows us to know ourselves a little better. My grandfather used to say quite rightly: "People protect what they love, they love what they know and they know what they learn". If we are interested in the environment, our decisions will naturally be rooted in a love for the planet. We are all united with the Ocean, the common good of humanity. We need more aquanauts in the world! Just think about it... there have been more astronauts in History than aquanauts, to use the term that was dear to my grandparents. We must make young people dream and not accept the word impossible, it is a discipline of life. Everything is possible if you put your mind to it. Have dreams and a deep desire to achieve them!