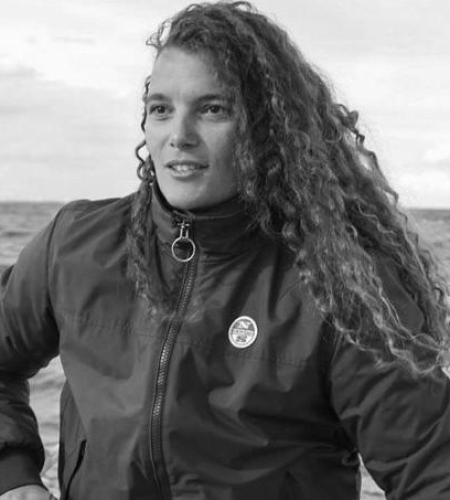 Before the Elemen'Terre adventure, Marie Tabarly spent several years alongside equine behaviorists and great master squires, driven by the desire to understand the mode of communication of the rider-horse couple. Some time later, she turned to the communication between humans, so complex. So on July 3, 2018, she made her dream the trip of a lifetime. On board the famous Pen-Duick VI sailboat imagined by her father, she left Lorient with her crew, for the start of a round-the-world trip. This mythical boat became the scene of a floating think tank which she renamed "The Elemen'Terre Project". Marie put all her ardor in offering inspiring people to think together about the major challenges of tomorrow in order to develop a better common being. Always with the same leitmotif: to use the arts and sports as allegories to the formidable challenges of the century.
Seeing and living slowly is your credo. Tell us why.
We have made Pen-Duick VI a place of reflection and awareness in order to participate in the shaping of a new world. Drowned by a constant flow of information, we take off, boarding, to take a step back, to recreate the link, this link with nature of which we are part of. We tend to forget it too much.
How are Elemen'Terre expeditions prepared (choice of places, stopovers, guests)?
14 people can board this 22-meter boat. Several parameters come into play for preparation: the theme that suits the stopover, the weather, the season and the availability of guests and crew. We chose Greenland as the first stop for the challenges that this destination represented. At each stopover, guests from various worlds (artistic, sporting, scientific, political...) get onboard. We then visit the world through their twin eyes and bear witness to our reflections through documentaries, social networks or even media campaigns. Elemen'Terre is also a documentary series around the world, like a plea in favor of the nature and of humanity. Art and sport are two fabulous means of meeting!
What major challenges have you overcome?
The construction of the expedition in itself represents a real challenge. I am quite a lonely person, even on the ground. Anyone who sets up a project, regardless of its size, must face their own challenges. Succeeding in making a project real is already a victory!
Which links do you have with politics?
We welcomed several personalities, including regional presidents and senators, mayors, as well as Nicolas Hulot, former Minister of Ecology, Sustainable Development and Energy. Nevertheless, we really try not to get engaged in politics in order not to suffer from political recovery and to maintain a dialogue with all parties.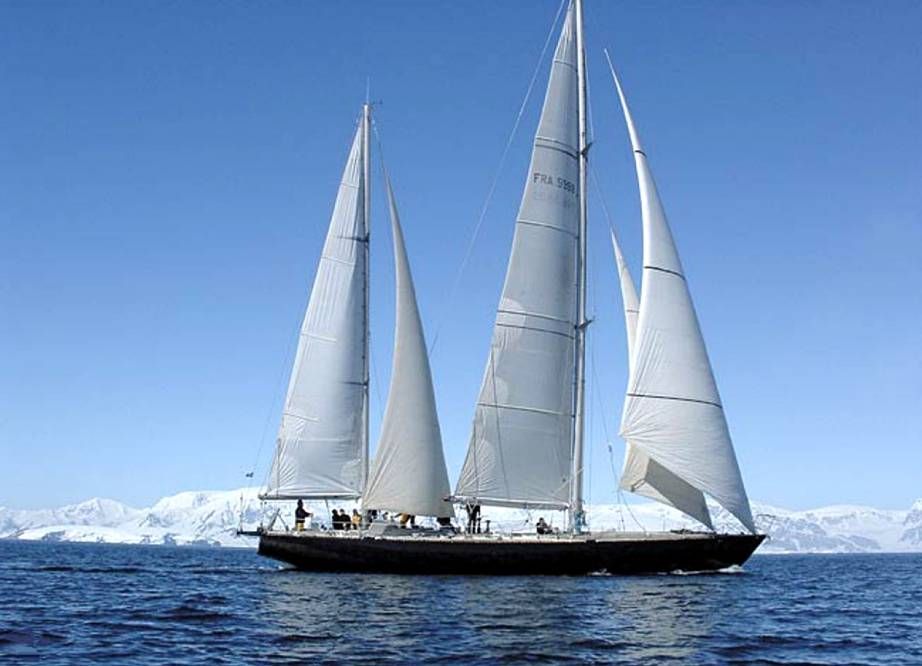 Would you like to strengthen your actions in schools?
Absolutely. Today, at every stopover, we welcome schools aboard the boat and soon, we will be delighted to welcome middle school, high school and university students.
Who would you dream of bringing aboard Pen-Duick VI?
There are so many people! But I don't like name dropping. The choice of guests is not made only according to my wishes, but also on their relevance to the theme addressed. They may or may not be known, what matters to me is their desire to share their knowledge.
What is difficult for you when you hit earth again?
It's always difficult for me to get off the boat. The transition to life on earth is complicated. The noise of the telephone is painful as well as all the superfluous with which we are constantly impregnated, fed by way too much information. It seems so ridiculous. I like to live without too much comfort on land. On the boat, we live on little and save everything. Starting with saving water.
What are your driving sources?
The sea and the navigation give me indescribable happiness. Stress is also an interesting feeling that drives me. This is obviously a stressful load in the face of challenges and failure, even if it is not pleasant at the time, it does not scare me. On the other hand, I hate to disappoint, starting with myself. So I do everything at 250%!
What is your way of being in the world, with regard to environmental changes?
No matter all the technologies that exist on earth, humanity has to change. But changing on your own is exceedingly difficult. Change must come through industry and we must help it. Our views towards it must evolve. It is made up of humans and it moves (change of ranges, packaging, etc.). For my part, I make the choice to remain positive and not to sink into fatalism. It is a daily discipline because I want to live in peace, in harmony with nature. This is one of Elemen'Terre's major axes.
What are the visual impacts or experiences that particularly marked you?
Go for a walk in the forest or on the beach and see the number of cigarette butts on the ground. No need to run the planet. The impact of global warming is measured from our living room windows. All around the globe, weather phenomena are changing. With Pen-Duick VI, we suffered Hurricane Lorenzo in the Azores in the fall of 2019. A year later at the same time, there was 100 knt at Belle-Île. These extreme weather events at this time of year are new.
Which landscapes particularly touched you?
They are numerous! Inland, I would say Montana, seen from afar... Also Iceland, Greenland, Patagonia... But you know, I'm in love with Ushant, above all. You don't have to go to the end of the world to realize and marvel at all the treasures that remain before our eyes!